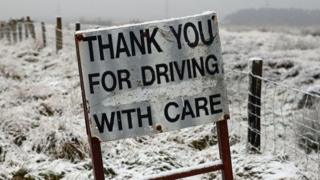 Icy conditions caused train delays of up to 90 minutes on Saturday, after temperatures dropped below freezing in parts of the country overnight.
Network Rail said some Southern, Gatwick Express and Thameslink lines were forced to run at reduced speeds.
South Western Railway also warned of delays due to ice, which came on top of planned weekend engineering works.
Temperatures fell to lows of -5.2C in Yorkshire, as forecasters said the wintry weather looked set to continue.
Icy night
The Met Office has issued a yellow warning for ice across Northern Ireland, north-west and south-west England and much of Scotland between 20:00 on Saturday and 10:00 GMT on Sunday.
The yellow warning advises people to "be aware" that conditions will turn icy again tonight, with rain, sleet and hail showers continuing.
Following the frosty start to the day, BBC Weather forecasted a cold and bright day with wintry showers in the north and west of England.
The showers will fall as snow over the hills and to low levels in the north, and perhaps in some parts of the Midlands.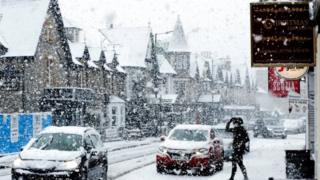 Dr Thomas Waite, from Public Health England, reminded people to take precautions.
"Those most at risk include older people, very young children and those with conditions like heart and lung disease," he said.
"Ask yourself if you could check on a neighbour to see if there's anything they need?"
Figures from the Office for National Statistics, showed an estimated 34,400 "excess deaths" occurred in England and Wales last winter.
Salt on roads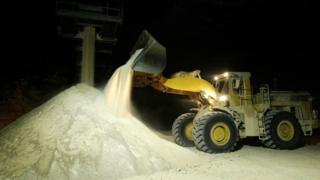 Meanwhile, councils in England and Wales have stockpiled 1.5 million tonnes of salt for roads this winter.
Nine out of 10 councils in England and Wales either have the same amount of salt as last year or even more, according to the Local Government Association (LGA).
More than half of councils are sharing salt stocks, while others share gritters and staff when required.
With temperatures falling, some local authorities have already deployed gritters on to roads.
There have already been heavy snowfalls in the Scottish Highlands this week, where icy conditions caused a number of road accidents.
Meanwhile in Lancashire, more than 70 people had to be rescued from floods.
Read more: http://www.bbc.co.uk/news/uk-42119571